My partner and I designed an international airport restroom that suits all users' various needs. Our priorities were to improve circulation, maintain a sense of safety and privacy, create icons that are legible across language barriers, and increase ADA accessibility.
My Role
  UX, Research, Environmental + Visual Design
Tools
Illustrator, InDesign, Rhinoceros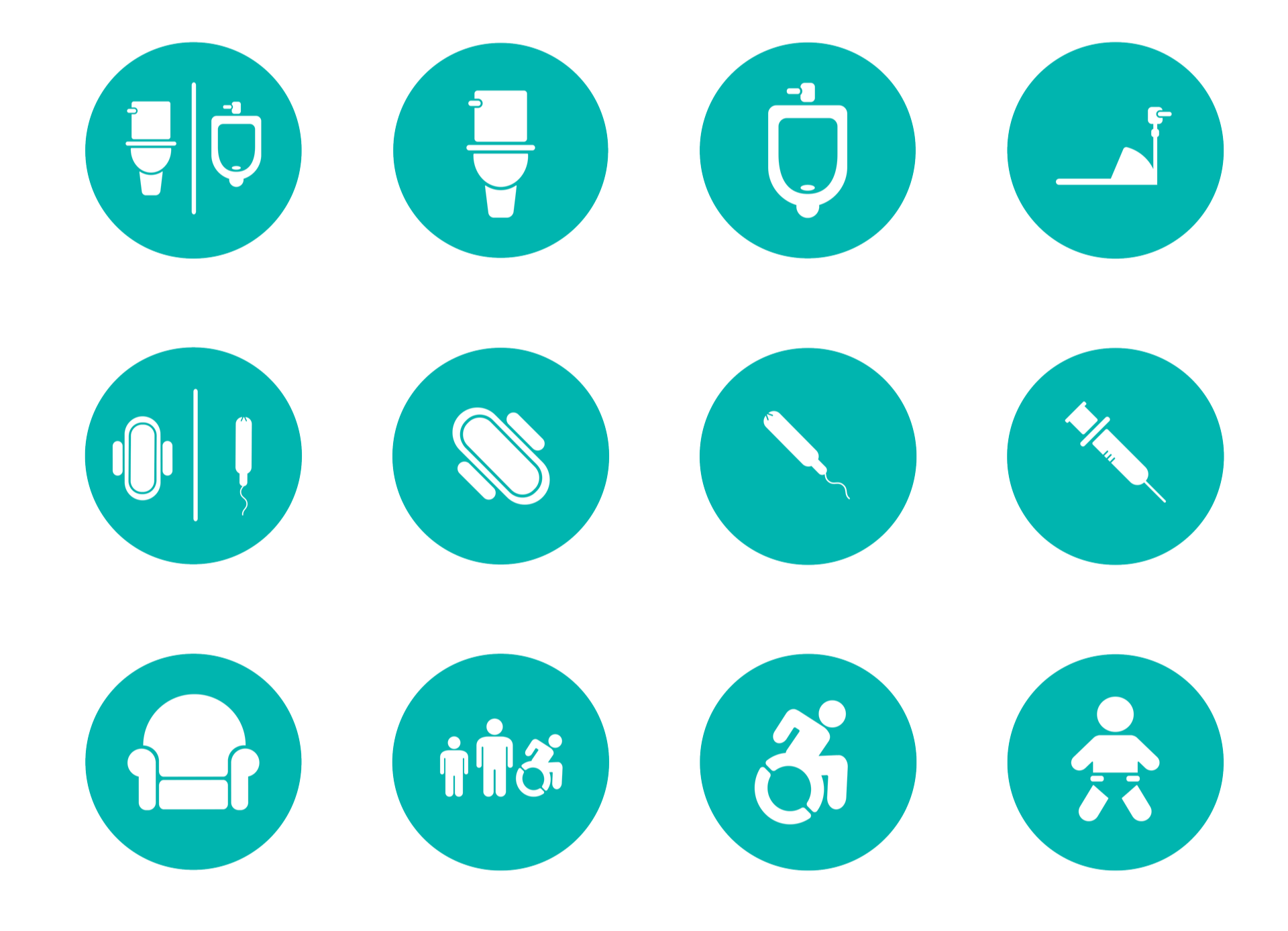 All-gender restrooms for a large, international facility must have clear wayfinding for a variety of needs and social preferences, with clear indicators of utility locations and access. Many existent architectural plans prioritize gender separation over user need and utility functions, and the structural template we received was no exception.

We successfully advocated for structural changes, increased the number of available utilities and ADA access, improved privacy with more secure stalls, and established a visual hierarchy of icons to channel users into desired areas.

User Profile Overview
(Detailed Profiles Below)
An international airport restroom needs to serve the needs of many. People prefer or need different spaces or degrees of privacy and have various reasons for using the facilities, from standard elimination needs to changing, nursing, or self-administering medication.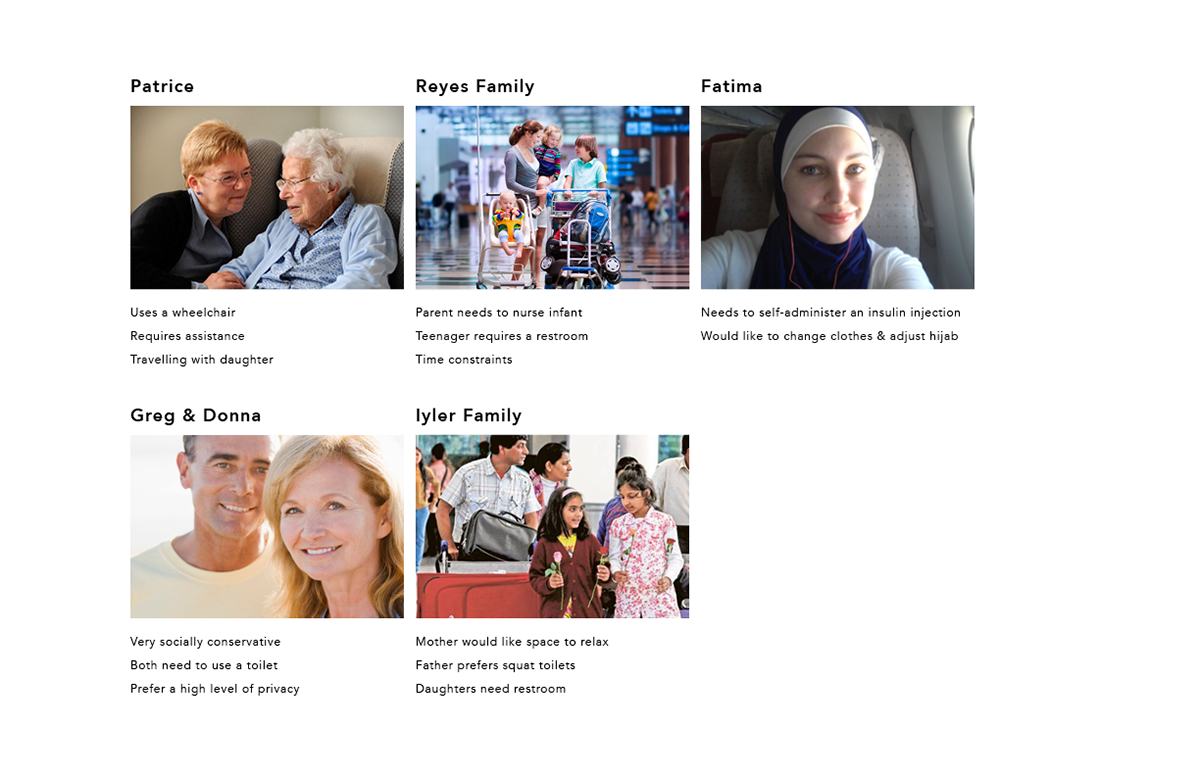 -  Researched existing all-gender bathrooms and found that effective design solutions increase the privacy of stalls by lengthening doors and partitions to extend from the floor to eight feet high.
-  Researched iconography that represented utilities rather than the intended user of the space.
-  Researched squat toilets and common symbology.
-  Researched ADA specifications for signage, sink heights, turning radius, and braille.
-  Created user profiles and different user paths based on key decision points. Included international users, users who required sharps disposal, trans people, those in wheelchairs, parents, people who require assistance, and users uncomfortable with the concept of an all-gender space.
-  Established standards for iconography in terms of rounded corner diameters, line weights, overall look and feel and used Adobe Illustrator to create iconography.
-  Selected gender-neutral colors that are accessible for colorblind users.
-  Continued to refine the design based on our list of user needs.
-  Calculated decision points, circulation paths and viewing distances for each user.
-  Used Rhino to build the entire space, and to create 3-d mockups with users to scale.
-  Created designs that work with or without text; icons are so clear that users are able to navigate the space without reading anything.
The plan we were provided for this project is fairly standard and perfectly functional for a conventional gender-segregated restroom. There are aspects that are inefficient and inappropriate for an all-gender design, however, and we advocated for changes based on this premise.
For a space to be inclusive for everyone it needs to be clearly, fully accessible. The most important change we recommended was join the two restroom spaces along the back wall (see annotation #1) so that all plumbing and washroom areas are accessible to everyone, regardless of initial entry point.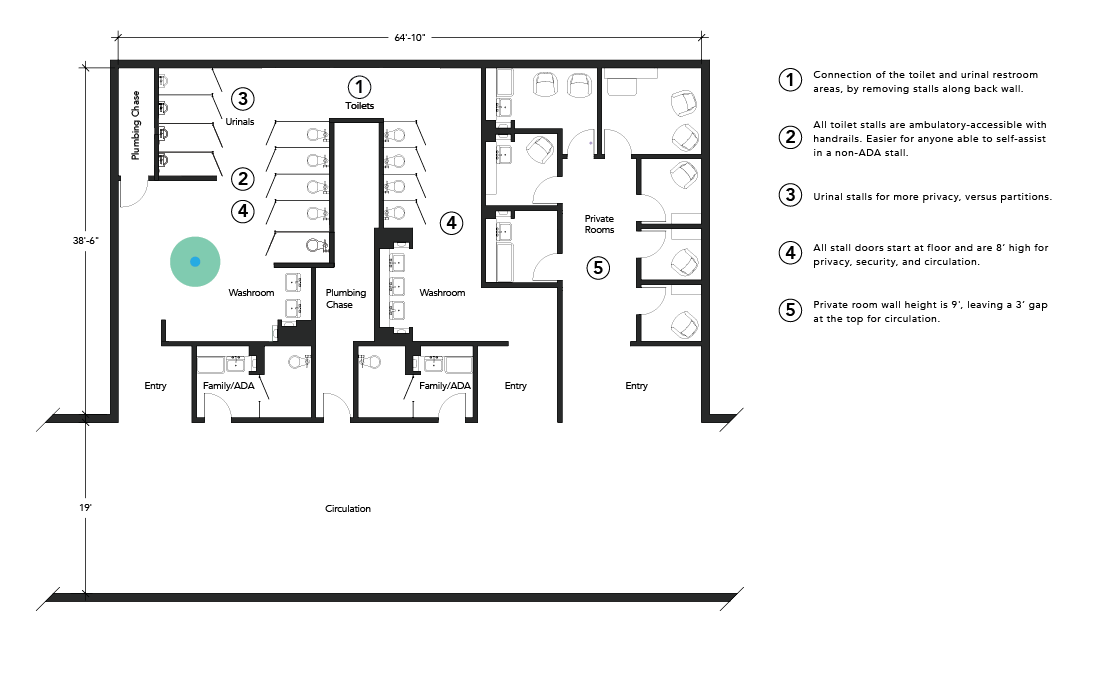 Once adjustments were made to the architectural plan, we made further additions such as tall privacy doors that run all the way to the floor, icons at entryways with signs in English and Spanish, icons on all doors, and supergraphics along the back hallway.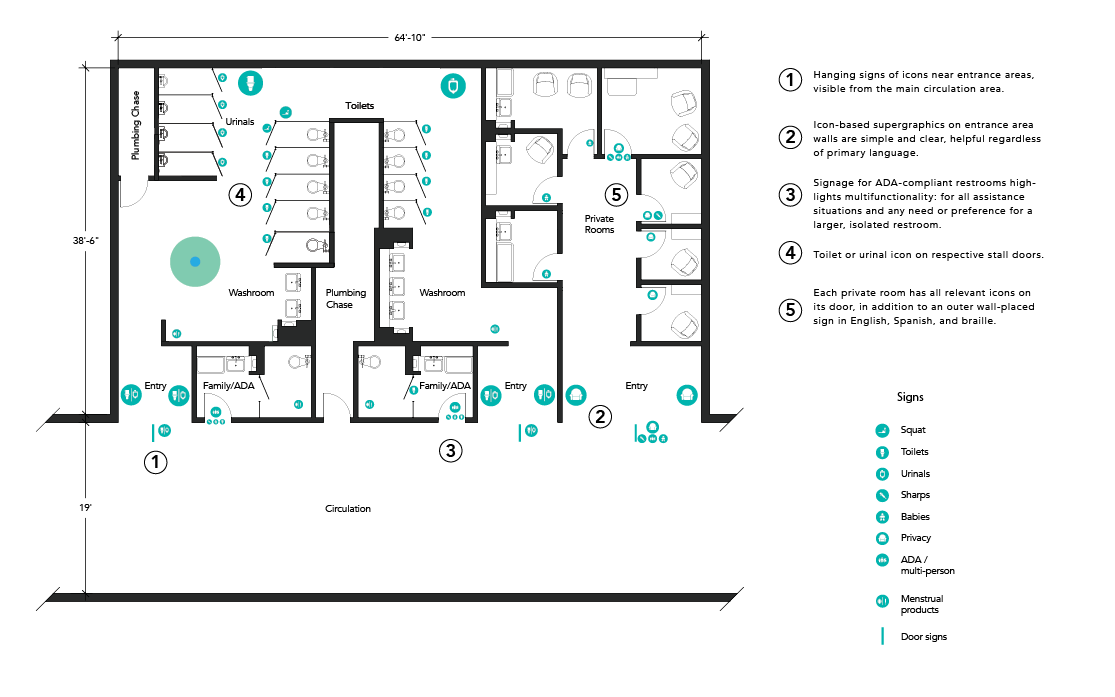 A familiar, highly legible typeface and simple materials are appropriate for this neutral, function-forward space. Our feature color is a calm blue-green paired with black and white.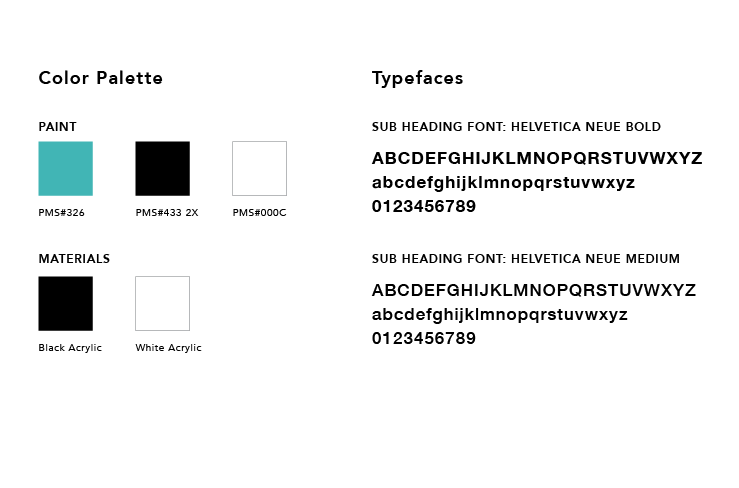 Hanging signs are visible at a distance, as are the larger, primary icons on the walls indicating the main use of each space. The Privacy Room icon indicating resting spaces is paired with secondary icons detailing the further functions served in the area: nursing and changing, self-administration of medication, and wheelchair accessibility.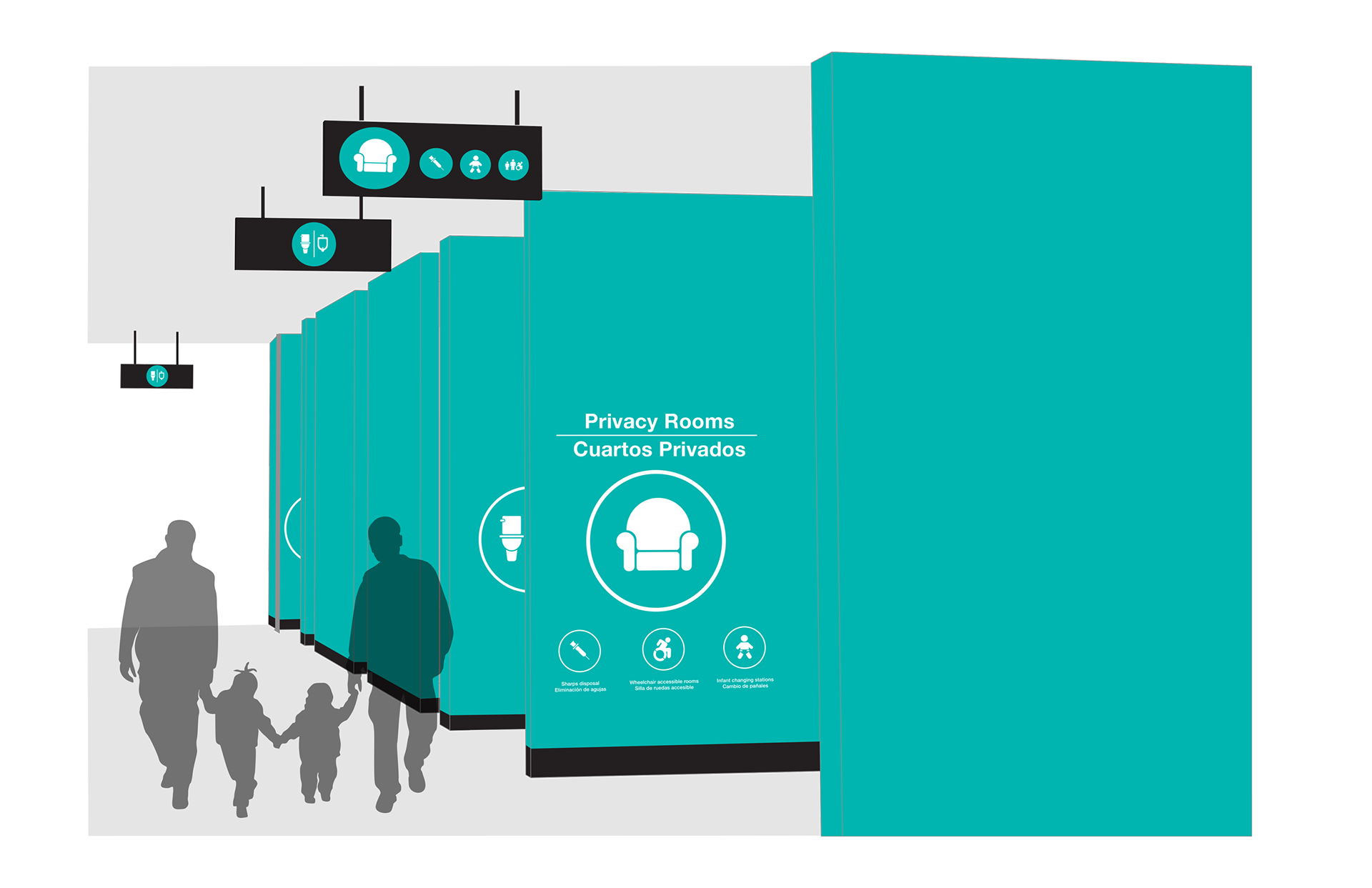 Below is a detailed view of the privacy room hallway where, as in the restroom areas, there are icons clearly displayed on each door. There are also plaques beside each door here, listing the function of the space in English, Spanish, and braille.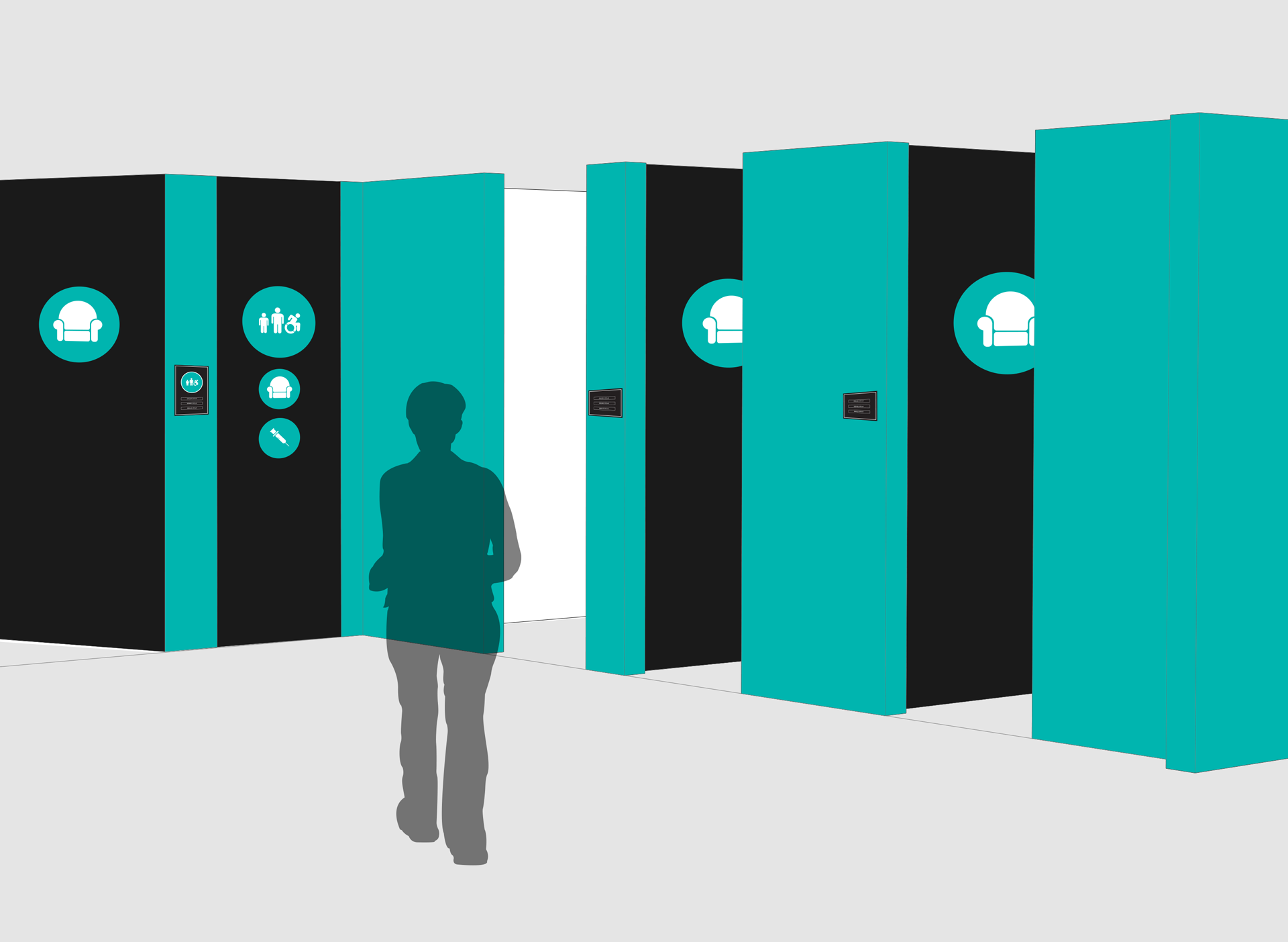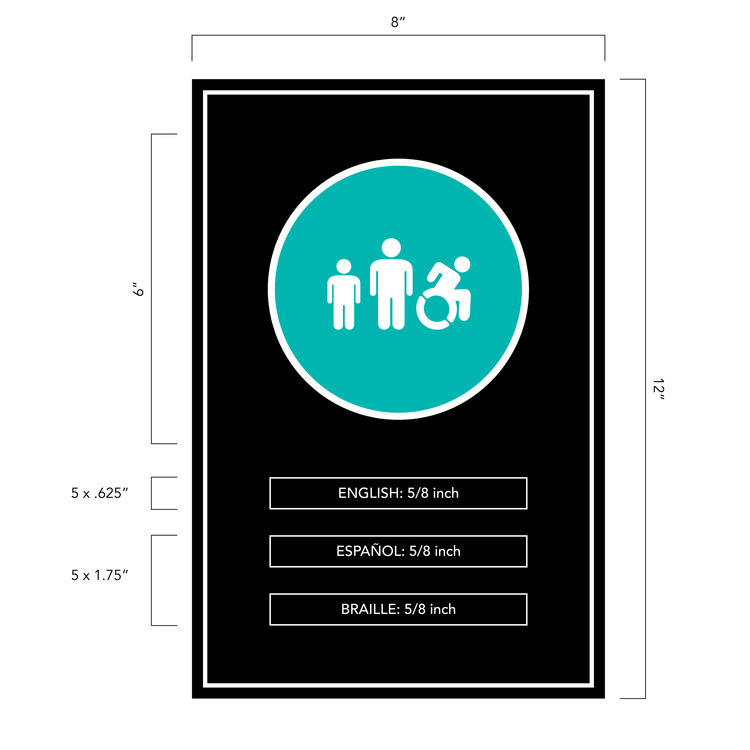 Detailed User Profiles and Circulation Paths
Patrice is an elderly wheelchair user returning home to Chicago after visiting family for the holidays. She is traveling with her daughter, Gloria, who sometimes assists her in the restroom. 
On the way to their gate, Patrice needs to use the restroom. As they are walking, they see a trio of icons: a urinal, a toilet, and a lounge chair. They follow the signs around the southeast corner of the restroom. They notice the lounge chair icon with the words "privacy rooms." Up ahead, they see a toilet icon paired with the familiar ADA Accesible icon, a multi-person icon, a sharps disposal icon and a baby changing icon. The signage is sticking out from the wall and is also labeled on the door. They realize it is a private room and go inside.
Gloria helps Patrice onto the toilet and then leaves her in privacy. While Patrice is in the bathroom, Gloria brushes her teeth and fixes her hair at the sink. She then helps Patrice back into her wheelchair. Patrice washes her hands and touches up her makeup before they exit the bathroom and find their gate.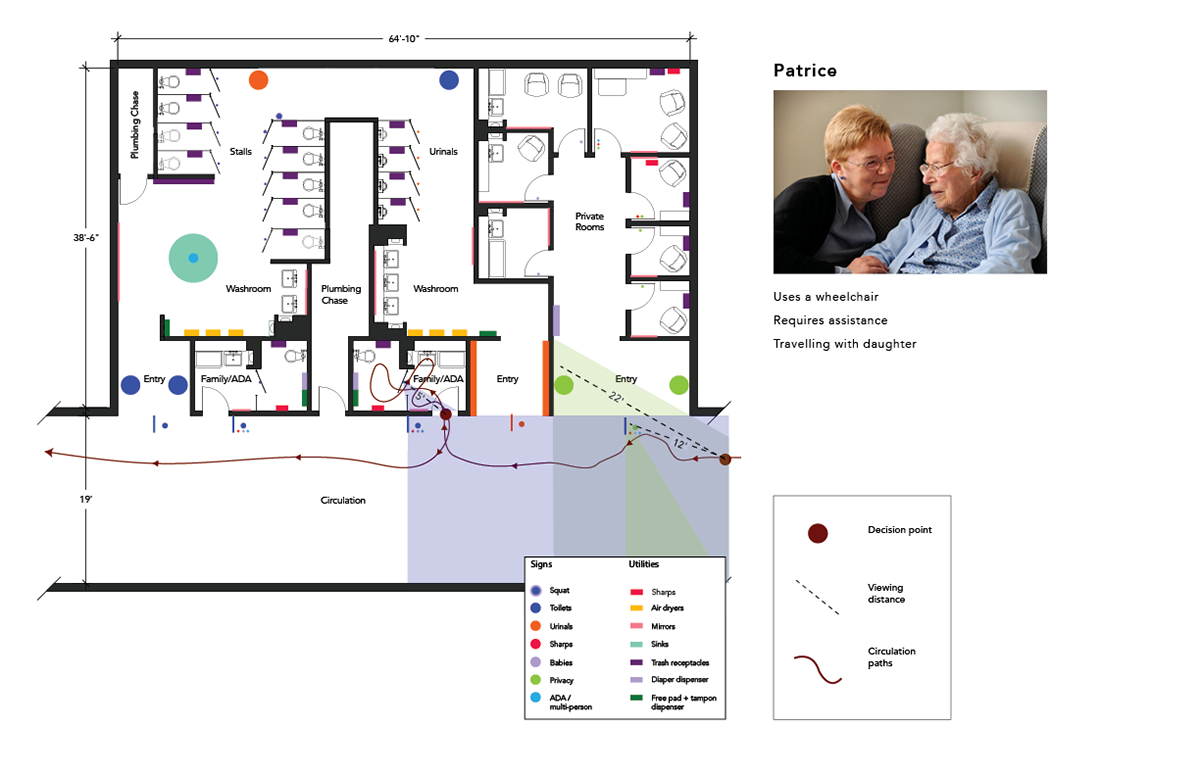 Dirce, Alex and Pedro Reyes
Dirce is a Mexican citizen returning home after visiting family in the United States. She is traveling with her fourteen-year-old transgender son, Alex, and her six-month-old baby, Pedro. After racing to the airport, getting through security, and locating their gate, they have only twenty minutes before boarding. Alex is menstruating and needs to use the restroom, and Pedro needs to be nursed and changed. Dirce hopes that she will be able to find a private nursing area as well as the restrooms for Alex in time to board their flight. 
Dirce follows signs featuring a trio of icons: toilet, urinal, and loungechair. She rounds the Southeast corner and sees an icon of a lounge chair next to several smaller icons that look like a needle, a baby, and a person in a wheelchair.  She enters and sends Alex along to use the bathroom.
Unaware that the bathrooms are all-gender, Alex enters the restroom with the urinal icon. His anxiety heightens at entering a gender-segregated space, but he notices that there is a row of private stalls with urinal icons on the doors, and is relieved. Next, he notices a large toilet icon with an arrow on the back wall. Before continuing, he sees that there is a menstrual product dispenser next to the row of sinks. He rummages in his pockets looking for an American coin, and then notices the words "Free/Gratis" written on the dispenser. He turns the knob next to the pad icon and receives a menstrual pad. Relieved, he continues around the corner and enters a stall with a toilet icon.
Meanwhile, Dirce is in the NW corner privacy room. She has changed Pedro, washed her hands, and is sitting comfortably nursing. Noticing that there is an additional chair, she texts Alex to let him know which room she is in, telling him there's a place for him to sit. After washing his hands at the circular handwashing station, Alex exits the restroom. He checks his phone, sees his mother's text, and follows the signs to her privacy room. He sits in the free chair and sends a few goodbye texts to his American cousins while Dirce finishes nursing. Relaxed and refreshed, they exit the area to find their flight.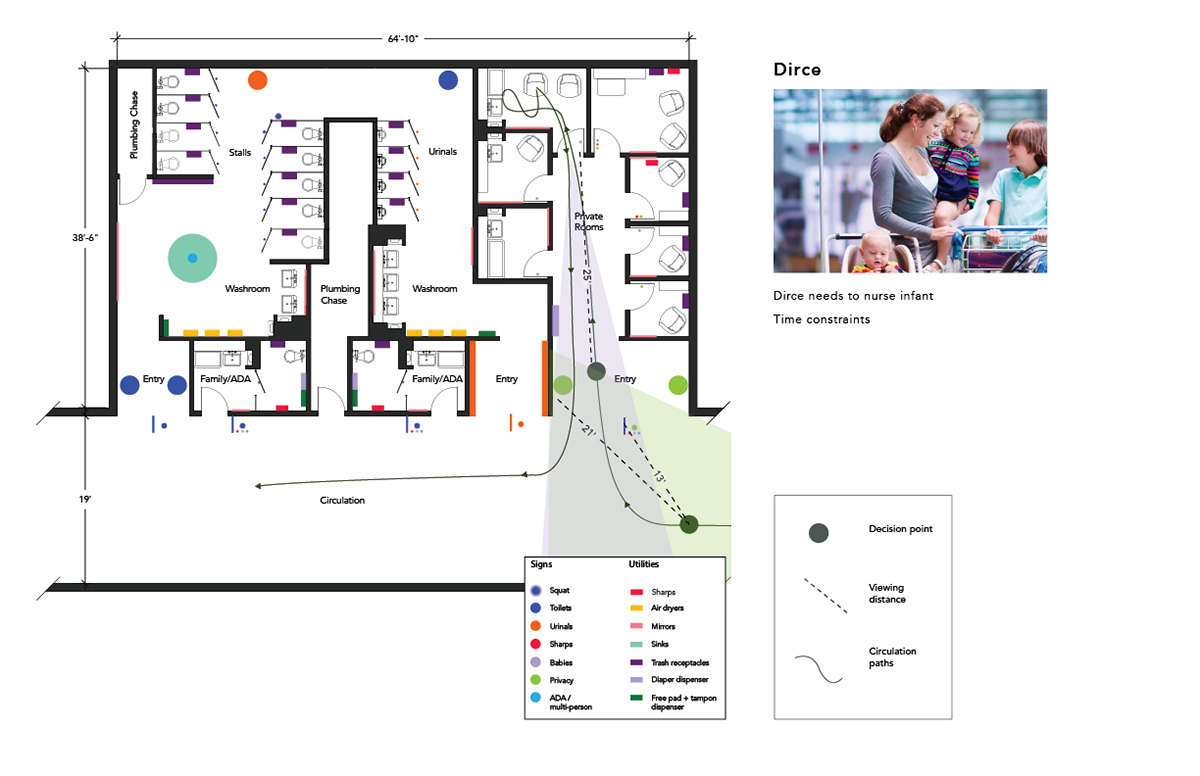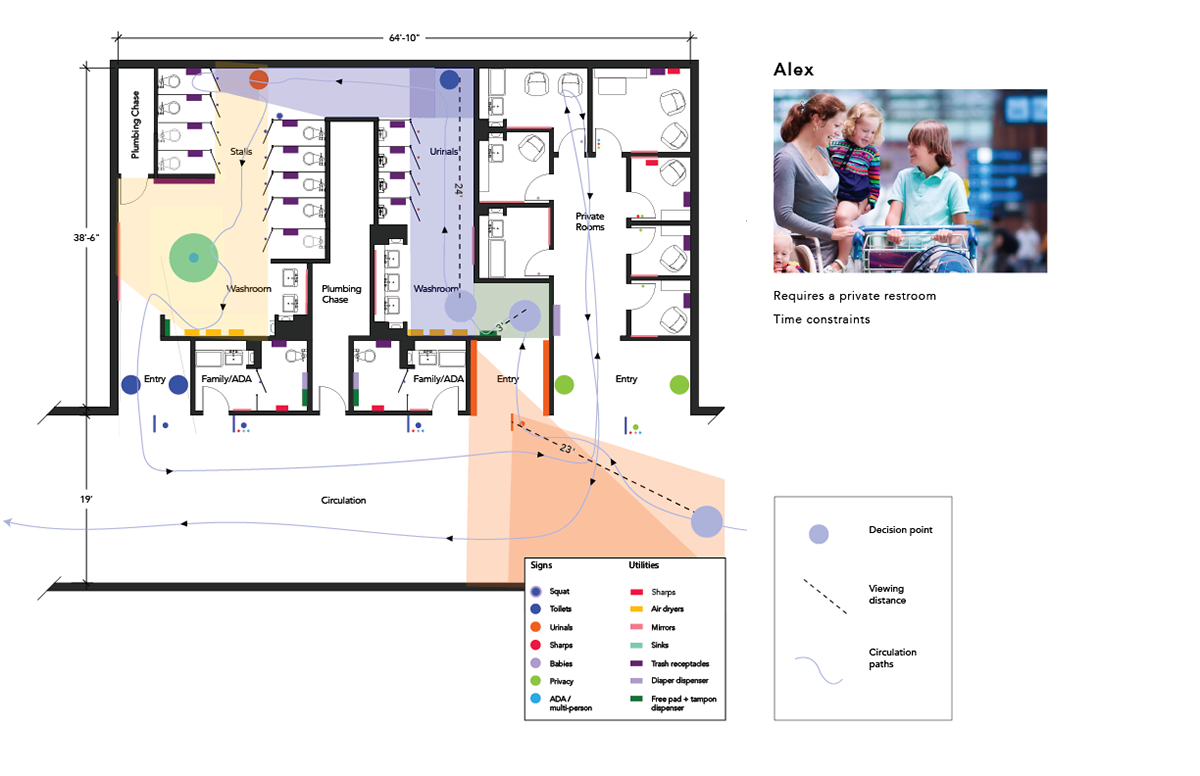 Fatima is a medical student in Seattle traveling home to Boston to visit her family for the holidays. She has Type 1 Diabetes. While waiting at her gate she checks her blood sugar and realizes she needs an insulin injection. She's irritated because she did not anticipate needing an injection. However, she would rather  self-administer in the airport than in the cramped restroom on board the plane, and also wouldn't mind changing into more comfortable clothes for the long flight. 
She looks around for a bathroom sign and sees a trio of icons: toilet, urinal, and lounge chair. She follows the signage and rounds the Southwest corner of the restroom area. She sees three large entryways with the three different icons: a toilet, a urinal, and a lounge chair. She notices that underneath the lounge chair icon there is an image of a needle. She follows these icons and enters the privacy room space. She notices that by the door a sign reads, "Privacy rooms, sharps disposal, changing tables, ADA Accessible"). She enters the space and to her right sees two rooms with doors ajar. Up ahead, she notices that a sign is sticking out of the wall with the needle icon. 
She enters this room and notices that there is a comfortable chair, a table, a mirror, a trash receptacle, and and a sharps dispenser. She sets down her things and gets out her medical kit. After administering the injection, she puts her medical kit away and looks in the mirror. She adjusts her hijab and changes into a more comfortable pair of pants for the long flight. After sitting down for a moment to organize her things, she exits the room and heads back to her gate, comfortable and prepared for her long flight.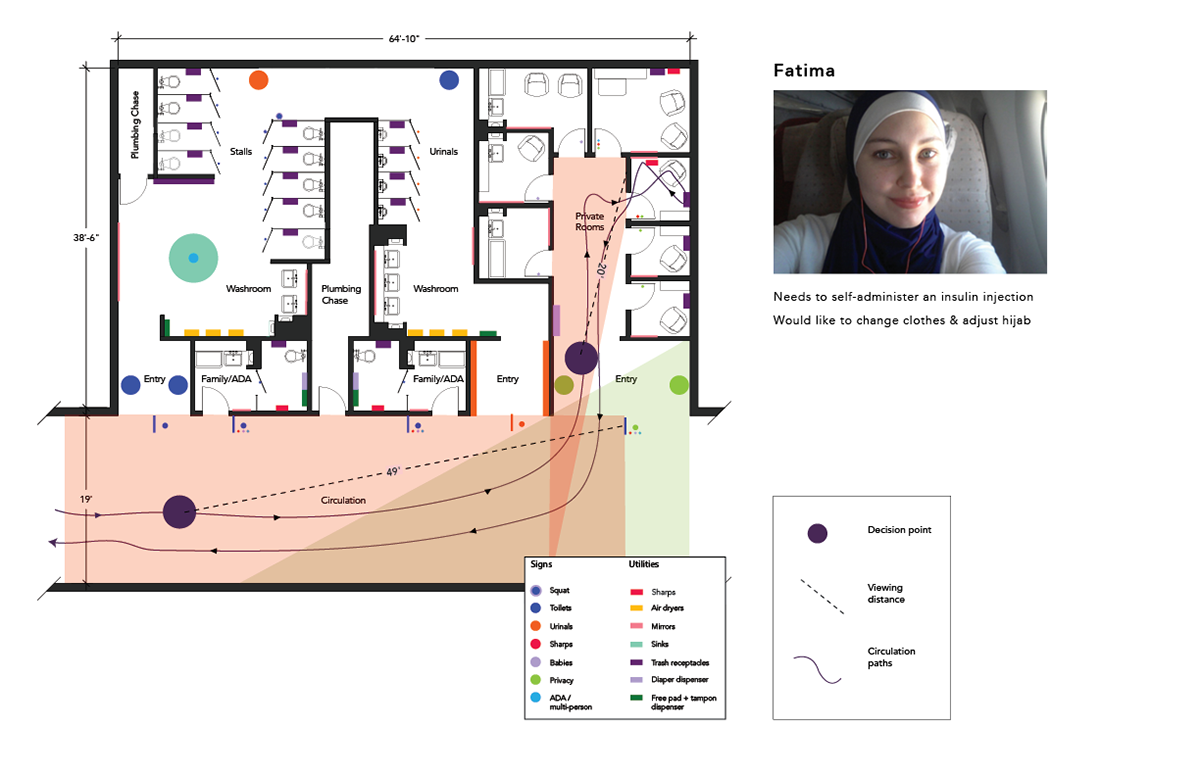 Greg and Donna are a couple that work at a non-denominational Christian retreat center in Texas. They are traveling through Seattle for a mission trip in Alaska. Greg and Donna have conservative values about gender, sexuality and relationships. They believe in gender segregated bathrooms and supported North Carolina's bathroom bill.
During their layover, they both need to use the restroom. They quickly notice the urinal/toilet/chair signs in the main walkway and follow them around the southwest corner of the restrooms. They first notice the toilet icon, and wonder if they are both supposed to enter through this entrance. Donna then notices the urinal icon up ahead, and points Greg in that
direction. 
Greg didn't tell Donna that he actually needs to use a toilet, and didn't want to enter the restroom with her. So, while she makes her way into the main restroom area, he takes advantage of the privacy of the Family/ADA stall. 
As Donna makes her way into the restroom, she notices that there are men and women using the circular handwashing station. She is a bit put off by this, but notices the long row of stalls ahead of her and walks that direction. She sees that each stall has a very tall door which reaches all the way to the floor. She enters a stall with a toilet icon and feels relieved at the sense of privacy that the tall door and partition provide. 
When she exits, she notices again that there are both men and women using the circular sink. Wanting to touch up her makeup, she chooses to use one of the several sinks on the south facing wall of the bathroom which feel a bit more private. She notices that there is a menstrual product dispenser tucked discreetly into this corner with the words "free/gratis." She takes a pad for the upcoming flight. Though the space was shared, she leaves with a sense that this bathroom was attentive to her needs.
Donna finishes in the restroom before Greg, and while waiting in the main walkway she notices the lounge chair sign and peeks into the privacy room entryway. Noticing most of the rooms are free, she ducks into the first room on her right to change into a more comfortable sweater for the flight. When she's finished, she exits the privacy area to find Greg waiting for her in the main walkway.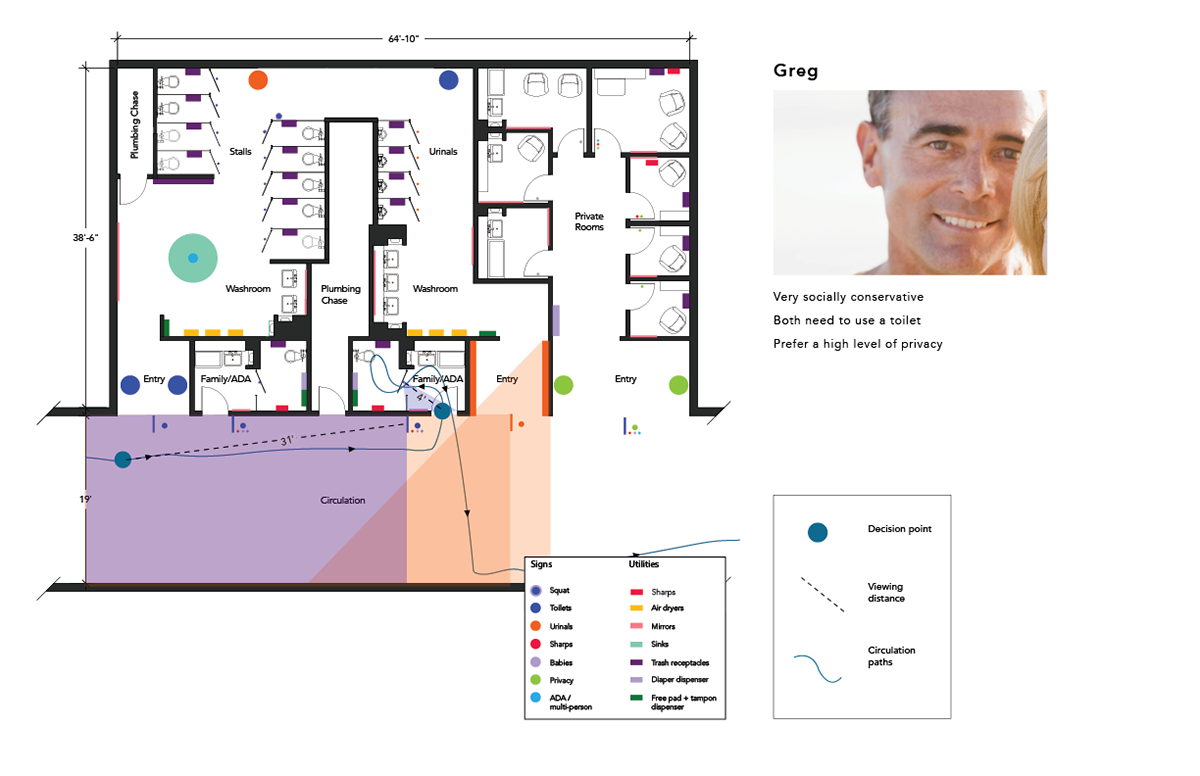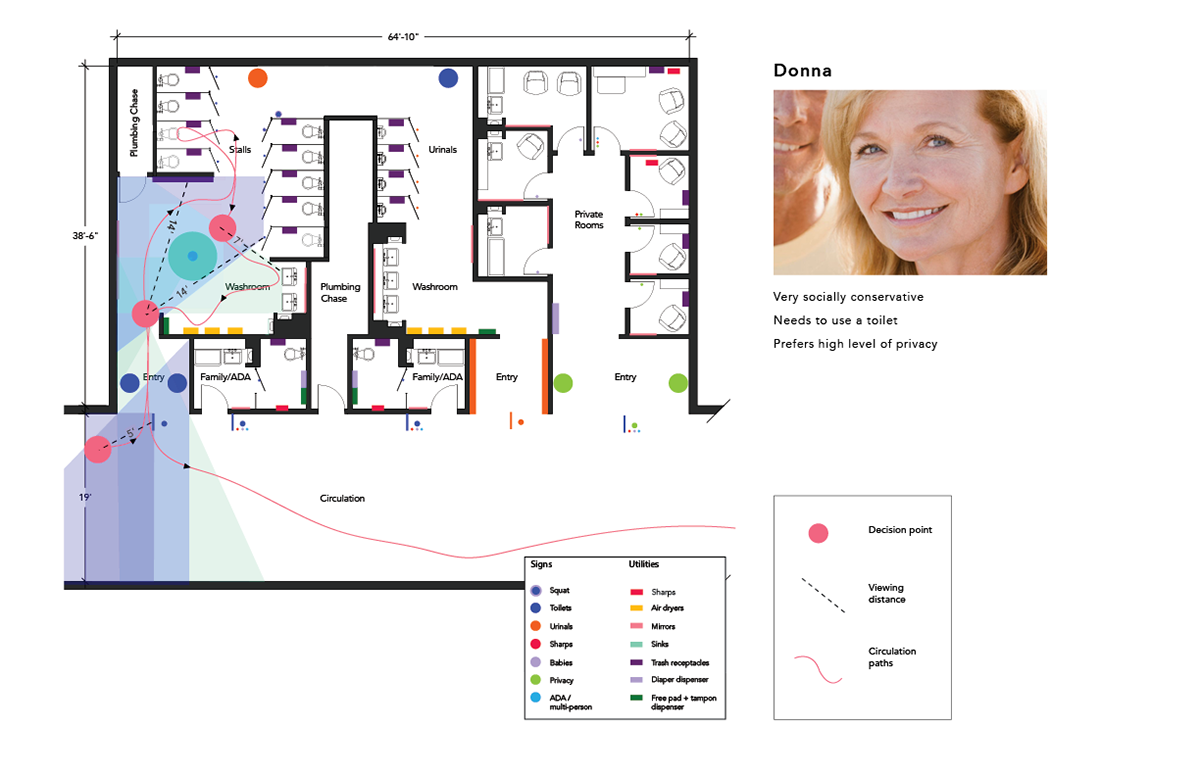 The Iyer family just arrived in Seattle after a long flight from India. They are in the US for their first international vacation as a family. They have just gotten their bags from baggage claim. Dad Arnav and daughters Kyra and Shanaya all need to use the toilet. 

Seeing the icons for toilet, urinal, and loungechair, the family follows the signs toward the bathrooms from the Southeast. The family assumes that all the toilets will be western-style. Different styles of toilets can be found in India, though squat toilets are more common. Arnav prefers a squat toilet, while his daughters prefer the western style. 

Since Mom Nalini doesn't need to use the toilet, she sees the lounge chair icon and enters with their luggage cart. She walks to the multi-person room in the rear corner and sits in one of the two chairs to wait with their luggage, getting out her phone to see if she can access wifi.

Arnav continues on with his two daughters. They all need to use the toilet, but assuming that the bathrooms are gender-segregated, Arnav enters the walkway with the urinal icon, and the girls continue forward towards the toilets. 
Arnav walks in and passes several urinals. He sees the toilet icon on the back wall and follows the arrow around the corner to the toilet stalls. He realizes that he is now in the same space as his daughters, but notices the privacy provided by the tall doors and partitions, and sees both men and women exiting the space. He knows he is not in the wrong place. To his surprise, the first stall on his left has a squat toilet icon. He enters and sees a clean, familiar squat toilet set up. 

Meanwhile, Kyra and Shanaya are using the toilet stalls a few stalls down. Wanting to give his daughters some privacy, Arnav walks back around the corner to the sinks in the urinal area. He washes his hands and exits the area to join his wife in the privacy room. A few minutes later, Kyra and Shanaya find their parents in the privacy room. Wanting to change into street clothes, Shanaya takes her suitscase from her mother into one of the single-occupancy privacy rooms to change. Kyra waits with her parents in the corner room, sitting on her mother's lap. When Shanaya is done, she returns to her parents, and the family exits to find a taxi to their hotel.